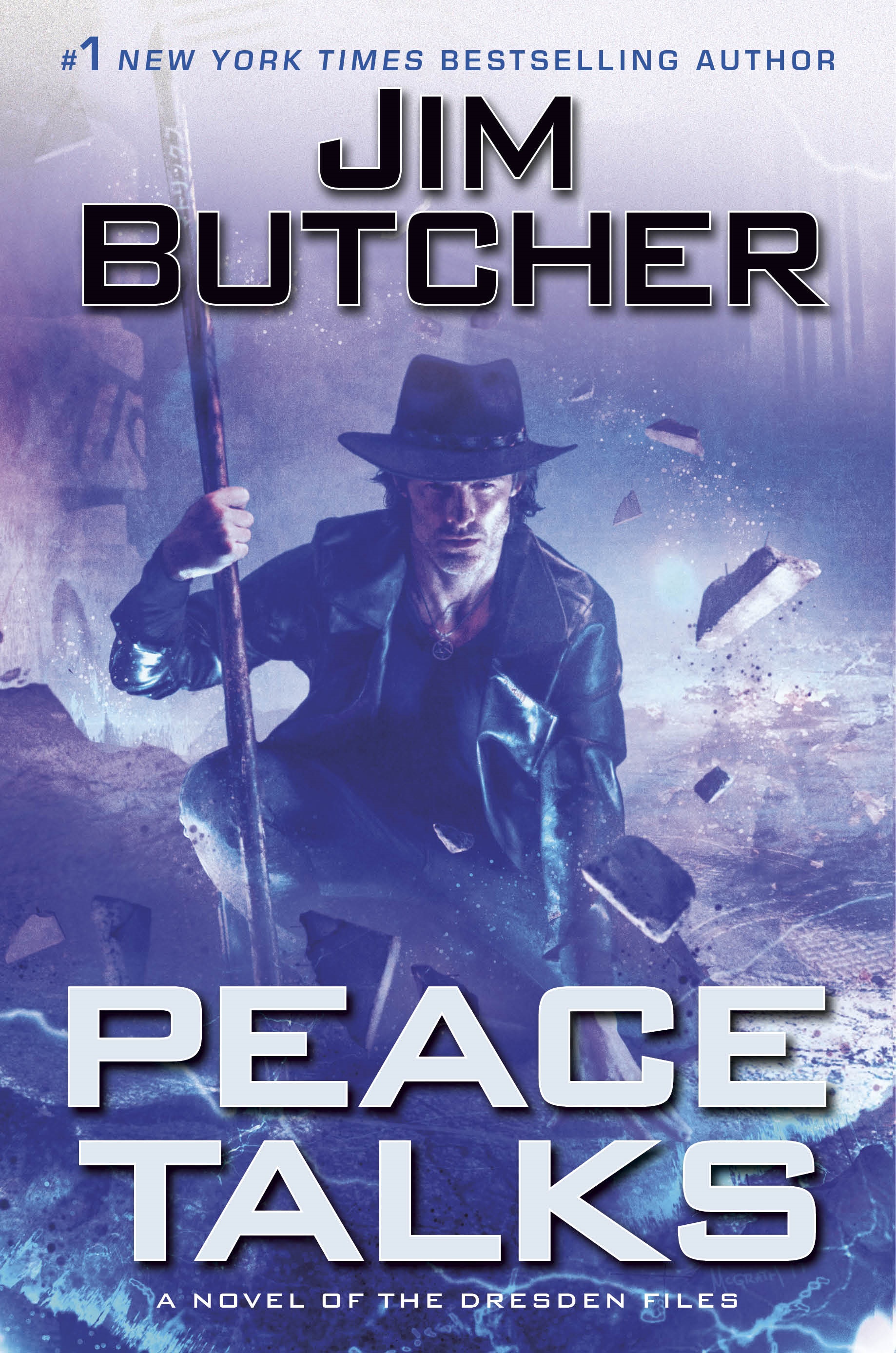 Peace Talks finds the supernatural nations of the world meeting up to negotiate an end to ongoing hostilities. Harry Dresden, Chicago's only professional wizard, joins the White Council's security team to make sure the talks stay civil. But can he succeed, when dark political manipulations threaten the very existence of Chicago — and all he holds dear?
Peace Talks hits stores July 14th, 2020! Preorder it here.
Read Chapters One, Two, Three, Four, Five, and Six on this website, plus an exclusive excerpt at Entertainment Weekly.
Watch the cinematic-style book trailer on YouTube:
Reviews
"I've been waiting years for Peace Talks. This wasn't the book I was hoping for. It's better." –#1 New York Times bestselling author Patrick Rothfuss
"Buckle up. It's going to be one hard ride. Jim Butcher has long proven he can juggle multiple threads of political intrigue, personal drama, and threat with a masterful use of action and tension. . . . you're not going to want to put Peace Talks down." –#1 New York Times bestselling author Kim Harrison
"Political intrigue, humorous mishaps and magic abound as Dresden attempts to save the day with his trademark chaotic heroism." –Indy Colorado Springs
"Peace Talks delivers as another entertaining installment in The Dresden Files and whets the appetite for bigger things to come in Battle Ground. Highly Recommended." — SFF World
(Starred Review) "With many familiar faces returning and lots of magical action, this latest from Butcher will have fans rejoicing at the return of Chicago's only professional wizard." –Kristi Chadwick, Library Journal
(Starred Review) "The release of back-to-back Dresden Files books is the treat readers need right now." –Lucy Lockley, Booklist
(Top Pick for July from LibraryReads) "Eagerly awaited by wizard Harry Dresden's legion of fans, this 16th book in the series is definitely worth the wait." –Brenda O'Brien, Shelf Awareness
Praise for The Dresden Files
"Harry Dresden is a wholly original character in a wholly original world. Every book in the series is a great adventure."–#1 New York Times bestselling author Charlaine Harris
"There are no words for how much I love The Dresden Files. I take them out and reread them when I am sad, or bored, or happy–or I happen to walk by one even though I have a lot of other things I should be doing. When a new one comes out, I plan on taking the day off. Superb."–#1 New York Times bestselling author Patricia Briggs
"Think Buffy the Vampire Slayer starring Philip Marlowe."–Entertainment Weekly
"Butcher is the dean of contemporary urban fantasy."–Booklist
"A great series…one of the most enjoyable marriages of the fantasy and mystery genres on the shelves."–Cinescape