I could write up an introduction to this post, but let's be honest. You're all skipping straight to the new Microfiction, aren't you? Enjoy!
New Con Appearance & New Trailer Date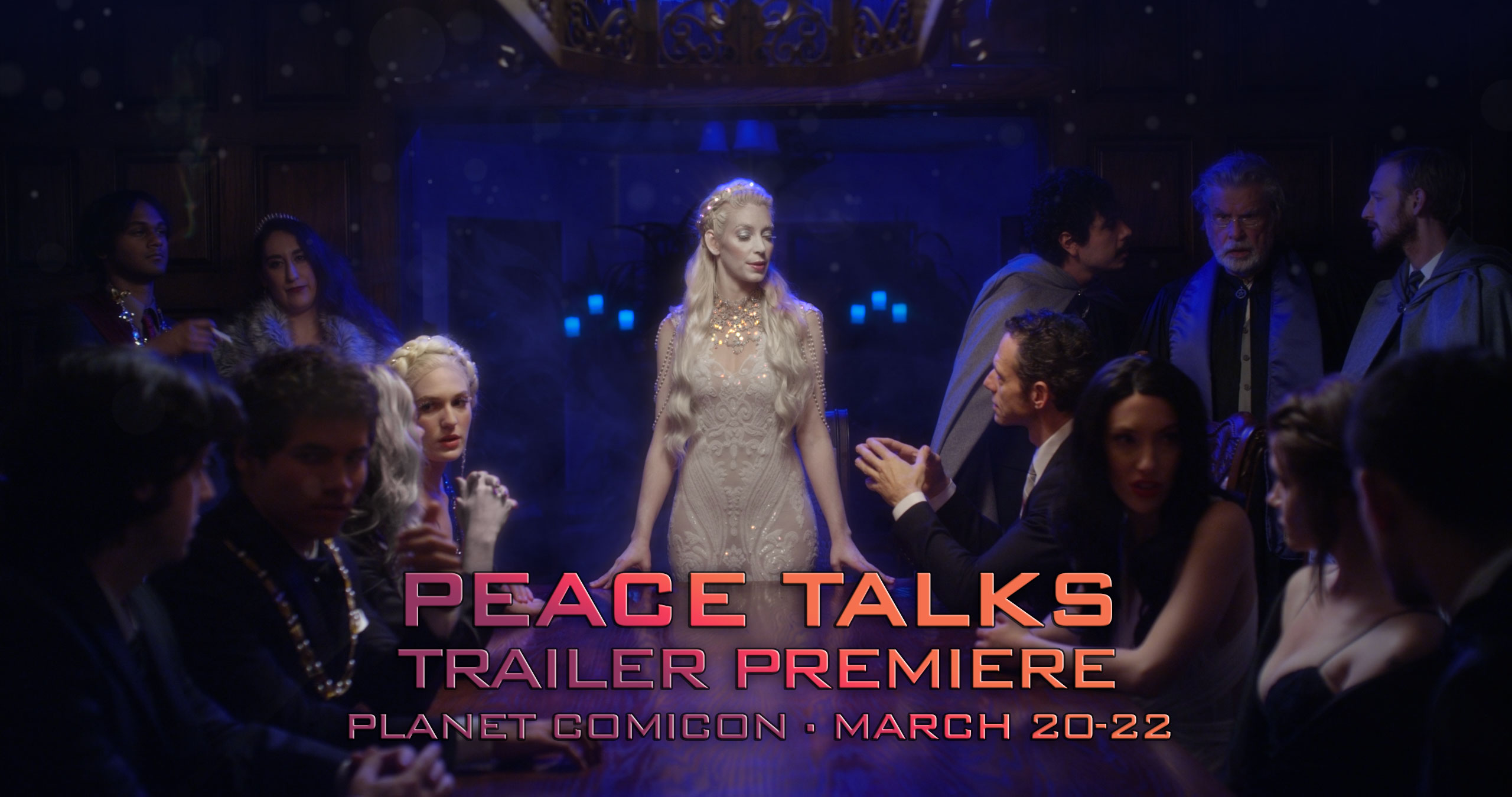 Due to public health concerns, Emerald City Comic Con is being rescheduled for sometime this summer. Jim won't be able to determine if he can attend until they announce the exact dates, but in the meantime, that means we need a new home for the debut of the Peace Talks trailer!
We'll now be premiering it the following weekend at Planet Comicon in Kansas City. Details are still being worked out, so look for his schedule in next week's Drop. We should also have a firm date for the online release of the trailer, which has similarly been nudged back a week.
For those who had tickets to the ECCC fan party, ReedPop (the con organizer) should be reaching out to you all to process refunds soon, if they haven't already. Your patience is appreciated–they have a LOT going on right now!
---
This week's Microfiction is concurrent with the end of Changes and contains RADIOACTIVE-LEVEL SPOILERS for Changes and Ghost Story.
Microfiction #3: "Goodbye"
by Jim Butcher
I hung up the phone on Dresden and stared at it for a moment.
Damn.
And I thought I was a hard case.
Only goes to show you that not only do principles get you raked over the coals, they make you lay, light, and rake them for yourself. A man should live his life for more practical things.
But I had to respect him a little. He believed goofball things about the world, but he meant it.
I went to the closet, opened the safe, and removed my most dangerous weapon, my laptop. It had been secured with absolutely every software and hardware precaution I could arrange, all the most up-to-date surveillance countermeasures that were available. It was impregnable. For the next few weeks. Then someone would do something clever and I'd have to update.
I arranged for travel to Chicago. I arranged for hardware to be waiting for me.
I'd already figured my approach for Dresden as a potential target. He was too annoying for words, and too powerful to ignore. Sooner or later, someone was going to contract him. I just hadn't expected him to do it himself.
I got my coat and walked out of my bedroom in the safehouse.
The Archive was standing in the hallway outside my room, between me and the door.
She was at that awkward age, where if I'd actually been the single father I was being paid to imitate, I'd have been getting worried about uncomfortable conversations. But she wasn't a pubescent girl. She was the Archive, the living memory of humanity, and one of the most powerful beings on the planet.
And she was furious.
Dresden had named her Ivy. And she had clung to it like a teddy bear.
I stopped and faced her. I had a gun in the small of my back, another in an ankle holster. I'd store them in a secured compartment in the car before I went into the airport. Not that the gendarmes would appreciate the distinction if I was caught with them.
If the Archive decided to come at me, I doubted they'd do me much good.
She stared at me. A child who I'd been attending since shortly after she could walk. Who I'd watched grow up. Who sometimes had nightmares. Who sometimes got sick.
I'd taken care of her.
If I'd been her father, and not a hired driver and gun, that look would have broken something small and fragile, way down inside.
She knew.
"In the chest, Kincaid," Ivy said.
If you're shooting at someone, you've already decided to kill him. There's no reason to shoot him anywhere other than the head, if you can. And I can.
She took a step toward me, maybe ninety pounds of furious, tearful eyes and newly-filled-out lips pulled away from a snarl. "In the chest. Or face me."
I thought about asking her why. But in the end, it didn't really matter. She had the power to stop me, for good. And she would use it if I didn't comply. A chest shot might give the wizard time to throw a death curse at me, if he changed his mind.
It was a less risky proposition than going up against the Archive herself, here, now.
I gave her a small bow.
She returned it. Then she stepped aside, so that I could walk to the door.
"I'll be back in two days," I said.
"Kincaid," Ivy said quietly.
I paused at the door.
"He's my only other friend," she said.
I looked back at her.
All the knowledge of humanity in one place. But she still couldn't keep the schoolgirl stockings from rumpling by herself. She had power and ageless wisdom, but she was still a child. Tears stained her cheeks.
"My feet reach the pedals, now," she said. "Your services are no longer required."
For a moment, it was hard to move.
But I owed the wizard. And I repay what is rightfully owed.
Spend enough time on this earth, and that's all that makes sense.
It was only a job, I told myself.
I turned my back on the little girl and left to kill the wizard.
Never did say goodbye.
---
Virtual Signing
Want to pre-order a signed and personalized copy of Peace Talks? Now you can do so through our Virtual Signing!
What is a Virtual Signing? It's essentially a signed preorder. Submit your order now and specify an optional personalization, and around the time of the book's release, Jim will sign them all, and BT will mail them your way!
NOTE: Because of the timing of Jim's signing tour, it is likely that you will not receive your books until 2-3 weeks AFTER the release date. If it's important to you that your books arrive sooner, sit tight. There will be other opportunities in the coming months to preorder signed copies of Peace Talks. But this will be the only chance for personalizations and signed books from Jim's back catalogue, so if that's your priority, then the Virtual Signing is for you!
You can snag up to two copies of Peace Talks for $30 each, then fill in your bookshelf's back catalogue while you're at it: Mass Market paperbacks of the Dresden, Alera, and Cinder Spires novels are $12 each; paperbacks of Side Jobs and Brief Cases are $20; and the paperback of Spider-Man: Darkest Hours is $30.
Signatures are free, and Jim is happy do personalizations (brief notes like "Thanks, Jamie!" or "To Al: Polka Will Never Die!") for an additional $5 each, which will be donated to Jim's favorite charity, Missouri Pitbull Rescue.
Email btvirtualsigning (at) gmail.com with a list of the books you want, and the team will issue you an invoice and calculate shipping. All questions regarding the virtual signing should also go to that address.
---
And that's it for this week!
Be sure to visit Jim-Butcher.com every Tuesday this year for weekly Drops of never-before-seen artwork, microfiction, interviews, contests, sample chapters for Peace Talks, or other tasty tidbits in our celebration of the 20th Anniversary of the Dresden Files. Join our new mailing list and follow @jimbutchernews on twitter to ensure you don't miss a moment, and check the announcement post to catch up on prior Drops. See you next week!