Readers rejoice, for this week, we bring you the Year of Dresden's second never-before-seen Microfiction! We also have another fabulous array of images to inspire you to enter the Fanart Contest (submissions due February 13th), the launch of the Grave Peril reread, and another sweepstakes for signed goodies.
(What is the Year of Dresden? 2020 is the 20th anniversary of Storm Front, and we're celebrating with weekly "Dresden Drops" of artwork, microfiction, interviews, sample chapters of Peace Talks, contests, and other goodies every Tuesday throughout the year. Catch up in our introductory post, then join our announcement list and follow @jimbutchernews on twitter to ensure you don't miss a beat.)
Let's jump right in! Today's microfiction gives us a little insight into what was going on in Morgan's head during the events of Turn Coat. WARNING: Contains MAJOR SPOILERS for Turn Coat, Changes, and Cold Days!
---
Microfiction #2: Journal
by Jim Butcher
You lose track of time, as the years go by. The things that seem significant, that rise above the rest, become your measure of its passage. And the longer you live, the more significant the event has to be to catch your notice.
It makes for infrequent milestones.
I haven't kept this journal since my seventies. I only started it because I thought it would make a good impression on Anastasia, who I presume will be reading this entry.
I will spare you the schoolboy platitudes, my teacher. My old friend. Though you have never said it, I have always known that you have always known my heart.
Now I return to these papers, and read the last few pages, and realize that the lessons that keeping this journal would have taught me might have prevented this from being my last entry.
My final confession, really.
There's little time, and far too much to say. I am losing blood and my thoughts wander when I must be concise.
Despite my promise to Margaret, I failed to protect her son.
I tracked him and his father until the time of Malcolm's death. To this day, I'm not sure who killed him. I suppose it's possible that Malcolm's death was natural, but given this child's ongoing misfortune it seems clear to me that he has been marked with an Adversary from the moment of his birth.
Malcolm died while I was on mission elsewhere. I arrived less than ten hours after the child went into the foster care system, and someone made him vanish. Magically, physically, bureaucratically. There was no trace of him, and I searched for years.
That bastard Justin DuMorne got to him before I could.
From then on, we could not be sure that the child was not molded to be a creature of Nemesis.
The child apparently murdered Justin in something very like a duel, and I am unsure if I am more frightened by the prospect that it was a deception to simulate Justin's death — or if it wasn't.
Given what is at stake, it would have been better to remove the child from play — but the Blackstaff couldn't let his daughter's son be neutralized. So I tracked him. I hounded him. I pushed him, constantly, in an attempt to draw out any controls that may have been emplaced — or any corruption of black magic that he might have been concealing. Even now, I cannot be sure that he is not the monster we all fear, in the process of being born.
But the enemy has invaded the Senior Council itself. And, regardless of his true allegiance, Dresden is not ensnared in the web of conflicts between them, and has both the inclination and the strength to defy them, at least for a time. Until I am certain where to lay the blame for LaFortier's death, I will seek his assistance. Given who he is, he will have little choice but to give it. If nothing else, the pressure might show me his true colors.
Perhaps I have been too hard on him. Perhaps I really have become paranoid and mad. Perhaps I have wronged a good man. But there is too much at stake to take that chance. The thought of allowing a Destroyer to be birthed among us when I could have stopped it is too heavy to bear.
To those who come after me and read this… well. History will be my judge.
I bore the fear of multitudes in silence and fought the darkness as best I knew how. I can say that without hesitation.
But I wish I'd done better by that child.
I have the honor to be Respectfully Yours,
Donald Morgan
Warden
Illustrations by Mika Kuloda and Tyler Walpole.
---
Art Spotlight #3: More Gaming Goodness
Today's official artists hail from the more recent Dresden RPG publications: The Paranet Papers, Dresden Accelerated, and the Dresden Files Cooperative Card Game. Snag all the games from Evil Hat directly or your favorite local gaming store! Click the thumbnail to embiggen.
David Hueso is a digital illustrator, concept artist and animator living in Madrid, Spain. His transporting, evocative pieces are the perfect fit for The Paranet Papers' "Spellcasting" addendum.
Jabari Weathers is a Baltimore-based artist under suspicion of being a goblin prince from beyond the veil. Look for their uniquely surreal, transcendent illustrations in The Paranet Papers' "Goes Bump" section.
Medusa Dollmaker is a self-taught digital and traditional illustrator, mercenary, curly stuff designer, and part time gorgon from Valencia, Spain. Her work graces the cover and interiors of Dresden Accelerated.
Japanese artist Mika Kuloda has shared her richly emotive fanart under a number of aliases, including Mika Merrylark, Mika Kuloda, and Mika Blackfield. Most of her official illustrations were created for the canceled LARP project Dresden Lives, but they have since been repurposed as official merch for the Worldbuilders charity. Her only work to see print publication thus far are her richly detailed endpapers for The Paranet Papers, but we hope to see that change!
Tyler Walpole is an astoundingly prolific illustrator from Des Moines, Iowa, whose eye-catching, explosively kinetic pieces fill the Dresden Files Cooperative Card Game and Dresden Accelerated. He's also created officially licensed prints of Harry and his allies, some of which still have copies for sale. Snag them from his store!
---
Seeking Fanart Contest Submissions Now!
Again, all these fabulous official artists are ineligible for the fanart competition, so you don't have to worry about one-upping them. We want to keep the playing field as level as possible!
Submit your entries to yearofdresden (at) gmail.com by February 13th for a shot at the grand prize: a signed ARC of Peace Talks and the print of your choice from Mika Kuloda! Or if you don't have any fanart of your own, why not reach out to your favorite Dresden fanartists and suggest they enter? The rules and the details can be found in our Announcement Post.
---
Grave Peril Read-Along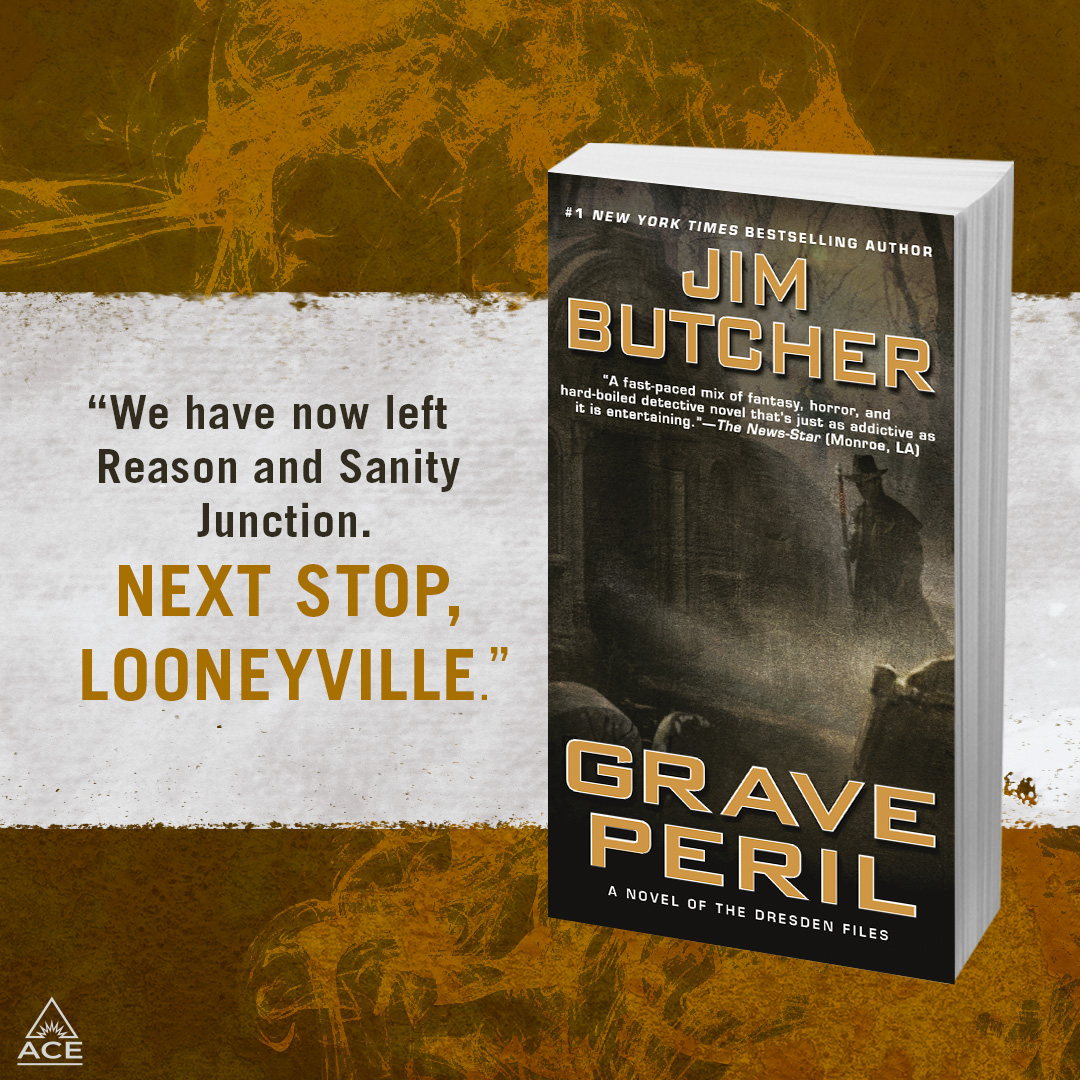 The Goodreads Read-Along continues full steam ahead with Grave Peril. In response to fan feedback, we reduced the discussions for Fool Moon, Grave Peril, and Summer Knight to one week each, so the timing of the release of Peace Talks dovetails with the beginning of its discussion.
We're also creating two discussion threads for each book. The Non-Spoiler thread will contain ONLY spoilers through end end of that book, and the Spoiler thread will be fair game for EVERYTHING up until Peace Talks. That way, long-time fans have the freedom to dissect the how the events of the earlier books echo forward into later books without spoiling the experience of first-time readers.
So join us as we dive into Grave Peril for one week only! Here are links to the spoiler-friendly and spoiler-free threads.
---
Storm Front Sweepstakes

Next, Penguin has announced another sweepstakes! They're giving away five signed copies of the book where it all began, Storm Front. Enter by February 16th for your chance to win. For legal reasons, this sweepstakes is open to U.S. Residents only.
---
And that's all for today! See you for next week for another fabulous Dresden Drop. Join our announcement list and follow @jimbutchernews on twitter to ensure you don't miss a moment in the Year of Dresden!